Attention: If you would like to uncover over 2,050 proven resources that will increase your website traffic, this letter is for you...
Dear Friend,
You've probably heard all the "too-good-to-true" claims, promising to submit your website to hundreds of thousands of search engines, directories, and classified sites... and you might have even given one of them a shot, only to watch it produce scant results...
Of course, the concept of getting large amounts of exposure and instant traffic from all of those links pouring in sounds great, especially for new websites just starting out. But, there's one BIG reason why they usually don't work.
You see, nearly all of those sites you get submitted to are a complete waste of time (as they don't research the sites and never update them) -- and only when you shell out big bucks, do you find-out...
You've Just Paid For Your Site To Be Submitted Into What Seems Like A Giant Black Hole!
It's true you may get a few hits here and there if you're lucky... by getting accepted into a few decent sites or search engines.
But, those quality sites are often few, far between. And when you've got a new website ready-to-go... and you want to get rolling in free traffic traffic as quickly as possible... well then, you're just out-of-luck.
There's just not an easy solution to get FREE traffic without a lot of of work first (even articles take countless hours to write and submit).
That's why my partner and I decided to do something about it... to find a quick and easy solution to immediately get results for all of your new websites.
Just imagine the possibilities if you could gain access to 2050+ high-quality search engines, directories and classified sites (researched to have the best chance of producing you hard results)...AND do it with the click of a button whenever you wanted. Well, now you can with...
This Dead Simple-Solution Anybody Can Use To Instantly Get A New Incoming Stream of Traffic!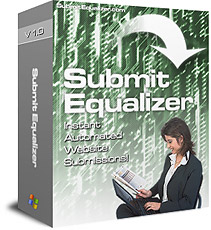 It's called Submit Equalizer -- A new tool from Rod Beckwith and Jeff Alderson.
You may be familiar with some of the other tools under our belts, including Blogging Equalizer, Traffic Equalizer, Ad Word Analyzer, and many other tools that increase profits and save time for marketers, webmasters, or search engine experts like yourself!
Submit Equalizer is an easy-to-download PC software you can run right on your computer.
It allows you to effortlessly and...
Instantly Gain a Massive Amount of Exposure For More FREE Traffic and Improved Search Engine Results.
Submit Equalizer works by automatically submitting your websites to well-over 1750 high-quality directories, classified sites, and other targeted resources (where you get nearly instant traffic from new incoming one-way links)...
And these aren't ordinary sites. They are specifically chosen for having the best chance to deliver traffic and results... so you can make cash from you sites as fast as possible.
Plus, you even get submitted to over 250 search engines without having to manually do anything (you may be surprised at all of the small search engines you're currently not found in).
Here's one user's exciting results:
"Who knew there was still life left in FFA's or Smaller Directories?
I was part of the FFA/Directory submit crowd back when it was new and hot. But these days it has become fairly well known that FFA's/Small Directories 'no longer work'... that they had already 'had their day'. Well here's a little surprise... it seems they DO still work.

I ran Submit Equalizer on a domain that had 0 (none, nada) links pointing to it. In only a week or so I discovered the domain had 306 backlinks! All undoubtedly the result of using SE!"

--Kenn Washer
http://www.ExpertPublishing.com
But, It Doesn't Stop There.
You also get access to a list of over 42 more search engines and 10 more sites where you can use a built-in website browser and manual submit tool to get even more links and traffic to your site!
Let's take a look at how it works:
The first step you take is to enter a little-bit of information about your website into Submit Equalizer (should take less than 3 minutes)...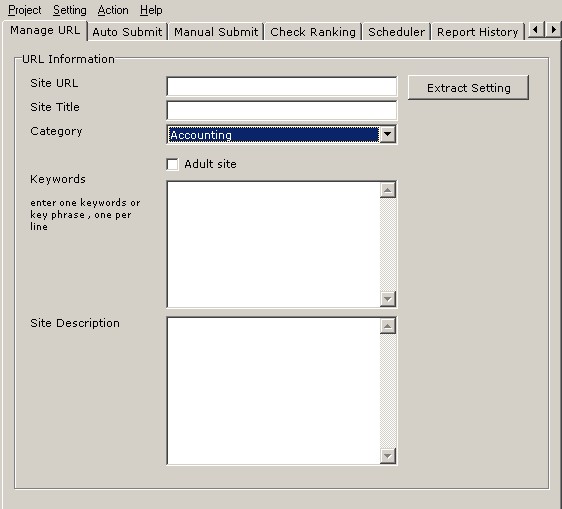 Notice, how you can select a category just for your market. This means many of your incoming links are targeted to your market... and will generate profitable traffic.
Then, you're ready to go with the auto-submit tool which instantly submits your site to well-over 1750 quality resources and 250 search engines: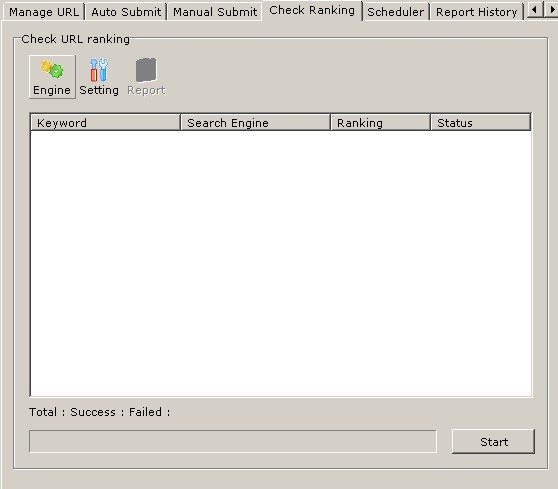 After you've let Submit Equalizer save you countless of hours of time, then you also get access to over 42 more search engines and 10 sites using the manual submit tool:

As you can see getting new traffic producing, one-way links into any website you want is now incredibly easy... and is the perfect way to launch all of your new sites -- where you get some quick links to help you rise in the rankings quickly.
Next, by using the scheduler tool you can even re-submit your sites every day, week, or month without having to lift a finger. Just set the tool and forget it.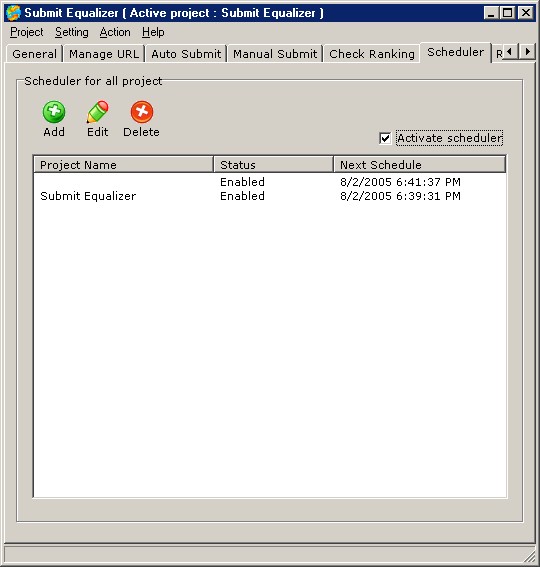 With this added tool you can now be certain you're going to get full value out of Submit Equalizer... because it's always going to be at work getting you fresh links and more traffic.
Just take a look at the massive boost in traffic and search engine spiders we received when Submit Equalizer was put to the test on it's own site in the middle of October: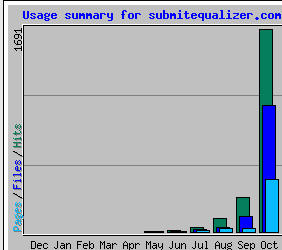 It went from practically zero (from just us using it) to 1,691 hits in less than 2 weeks time! And, this is before we told a single soul about it.
Now, just imagine you getting this instant amount of exposure for all of your sites... and doing it whenever you want. All you have to do is hit a button and you're off!
Here's what another user has to say:
What can I say but...WOW! You have really done it this time! This program is awesome! Now, even the internet newcomer has a shot at profiting from the *big* search engine traffic, and best of all, at a price that everyone can afford! The two of you deserve a standing ovation for your creation of yet another ingenious webmaster tool.
Stephanie L. Woolford-Bales
http://www.InfiniteWebTraffic.com
Simply put, you barely have to do anything to have your copy working on autopilot.
Here's The Complete Run-Down of Everything Submit Equalizer Allows You To Do:
Avoid missing-out on often over-looked traffic from small search engines which you can more easily dominate! Although they get less traffic than Google or Yahoo, they still add up to a nice percentage of extra traffic you don't want to overlook.

Send more search engine spiders your way (getting more of your pages inside the search engines... and at faster speeds). You won't have to wait around for months for your pages to start generating loads of free search engine traffic!

Gain targeted, free incoming traffic not only from the new search engines you submit to, but the classifieds, directories, and other resources. Remember, directories tend to do well in the search engine rankings and so they are a great way get traffic from competitive search terms!

Help you rise to the top of the rankings AND stay there for the long-run. Remember, incoming links and what they say (anchor text) are the single biggest factor that determines how you rank in the search engines!

Enjoy the benefit of one-way (non-reciprocal) links to make sure you are not penalized for sending out links to sites banned by the search engines.

See your progress in the major search engines using the built-in rank checking tool. You'll quickly see how you're doing in capturing your target terms -- and if your time is being spent wisely.

Submit your site(s) every day, week, or month to these directories, classifieds, and other sites for your best chance at having search engines find your links.

Have unlimited websites saved into your copy so you don't have to type in new information for every website you have. This means you can effortlessly change your anchor (link) text or website description whenever you want.

Use your optional built-in proxy feature to allow you to submit as many websites as you like without identifying yourself to the search engines.

Get links with anchor text. If you're solely relying on articles for incoming links, then you're missing-out on a valuable weapon to grab your most prized terms. Having the right text on the links pointing to your site is vital to getting the best search terms.

Automatically submit your site to over 819 resources and 217 search engines with the click of a button!

Easily use the manual submit tool to gain entry to to dozens of other exclusive listings and search engines.

Find-out where your sites were successfully submitted and where Submit Equalizer should try again with a built-reporting feature. This feature allows you to make sure you get full benefits out of this exclusive submission list.

Choose what types of sites you want to submit to (whether you only want to sent it to classified sites or just to search engines). You now have the power to pick where you want to get exposure from.

Plus, you're also going to get a constantly updated database of submission sites. This means you're always going to be gaining links from new sites... and Submit Equalizer's value grows!
You Can Also Rest Assured Your Sites Are Submitted To Quality Classifieds, Directories, and Search Engines.
Submit Equalizer is unlike any of those other programs that promise to submit your site to hundreds of thousands of places... where it sounds good, but never delivers solid results (because 99% of the places it submits to are junk).
Instead, you get your site submitted to only quality sites and search engines. Ones where you stand the best chance to get loads of free traffic from them.
Best of all, you can re-submit your sites as much as you want... because you own the software. You won't pay a one-time fee just for one of your sites to gain this massive and immediate increase in exposure.
Just think... how many little search engines (which add up to a lot more traffic) are you leaving out of your game plan?
Now, You Can Get Listed In Virtually Every Search Engine That Has The Potential Of Generating Traffic...
And, best of all, you get to do it with click-button ease!
Now, of course, there's one question you're probably wondering...
What kind of results can you expect? Here's how it works:
After you've hit the submit button, you are immediately submitted to the automatic exclusive list of sites inside... sending your first visitors within hours.
Then, after only a day, the search engines will begin to discover your first few incoming links... and the search engine spiders will come running -- sucking-up your pages into the search engines. And as a result,
Give You an Immediate Stream of Traffic For Any Website You Want!
Listen up: Compared to your other options of getting referral links and incoming traffic to your site, Submit Equalizer is possibly the easiest solution you have...
Because instead of being forced to rely on purchasing expensive advertisements or on time-consuming search engine tactics for anybody to take notice of your site...
You just click a button (or let the scheduler take of everything for you) and you get incoming links and more traffic quickly and easily..
You won't have to pay $2,000.00 a month to hire a search engine optimization expert to gather your links... or pay one of these guaranteed link companies $1500.00 for 50 incoming links.
In fact, you won't have to pay anything close to that. The investment to get a new traffic stream to your websites you put to work whenever you want (and for all of your sites) is a mere $27. This means...
Submit Equalizer Is Almost Guaranteed To Pay For Itself Within Days By...
Slashing the time it takes to make cash from your new websites (with more traffic and better search engine results). In other words, you're putting your new websites' money-making ability into warp speed.
With more of your pages into the search engines faster and a fresh stream of FREE traffic... all without spending all of your time, wasting away, at your computer. With the command of a button you can now let your copy of Submit Equalizer take care of all the hard work for you.
So, if you're used to getting links and your sites into the search engines the old-fashioned ways, then this a dream come true.... fresh links pointing to your site... and you didn't have pay a lot of money... or hardly lift a finger.
What All This Means To You Is Simple...
Adding a copy of Submit Equalizer to your arsenal of promotion software is a wise choice... because you're gaining one of the easiest ways to get profitable traffic to your websites...
With more incoming one-way links, targeted traffic... and more of your pages getting into the search engines.
You're letting the world know about your websites, in moments. All you have to do is fill-in a few blanks and click the submit button. And, as a result...
Gain The Maximum Amount of Money Out of Your Sites as Quickly as Possible.
So, if you're serious about your web business, then the cost for Submit Equalizer is pocket change. The amount of traffic and search engine exposure you receive from your scant amount of effort will easily pay you back in just a short time.
Not only because you're making more cash, but because you're freeing up your time to focus on the things you get paid for.
So, don't put off getting your copy... and start taking advantage of this instant traffic source moments from now. You don't have to spend another long-day or night trying to secure more affordable traffic for your site.
Instead, start cashing-in by adding this new stream of traffic TODAY.
And, Of Course, With Nearly All of Our Tools...
You won't have to worry about losing your investment with Submit Equalizer.
Because unlike other software products that go out-of-date quickly when a more advanced one comes out, you get FREE upgrades. This means whenever new directories, classified sites, or search engines are added to our database, you get the updated list right away!
Additionally, the same is true for added usability features. When new and helpful ones are needed, then you can be rest assured they will be added.
This means you have no reason for waiting to get your copy of Submit Equalizer... Your investment is secure. And what's even more.... you're also getting backed up by our...
My partner and I are so confident you're going to love the results you get with Submit Equalizer...When you grab your new copy right now, you get our ironclad, 100%, 60-day money-back guarantee!
This means you get to try Submit Equalizer for a risk-free test-run!... Because if you don't get possibly the easiest free traffic stream you've ever had, then you get ALL of your investment handed back to you! No problems or hassles. With this deal, you can't lose...
Click Here To Order Right Now!

INSTANT ACCESS - INSTANT DOWNLOAD


Get Your Copy Of "Submit Equalizer" Now For Only $247 $97 $47 $27!

You can download it right now -- even if it's 2:00 a.m.!

Sincerely,

Jeff Alderson
Rod Beckwith
P.S. With Submit Equalizer in your arsenal of promotion tools you save hours of time to quickly and easily get links and traffic to your websites. You won't have to stay up all night anymore... struggling to get incoming links every time you launch a new site. Just fill-in a few blanks and let your copy go to work!
P.P.S. The usual struggle to get more traffic to your new websites is now over. Just let your copy of Submit Equalizer go to work and watch as new links throughout the internet pour into your website overnight... and you barely have to lift a finger! Don't delay and start enjoying more traffic and exposure with your copy TODAY!